Key terms: URM; programs (v. department); labor; tenure review.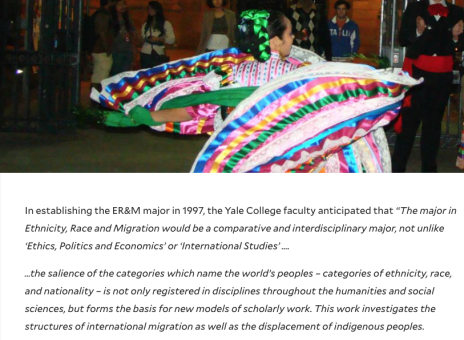 Excerpt:
When 13 professors at Yale University said on Friday they would cut ties with the institution's ethnicity, race, and migration program, they said their decision was rooted in a history of inequity.
The professors, all senior-level scholars, said the program had been stuck in a vulnerable position for years, without the hiring authority, resources, or stability that departments and other programs have. And despite promises from senior administrators, the faculty members, many of whom are scholars of color, said nothing had changed.
So they resigned from the program en masse, in hopes of sending a message that the model — a "formula of borrowed labor," one professor called it — was unsustainable.
Read more here: "Yale Professors' Protest Casts Doubt on a Big Faculty-Diversity Initiative:"
Image: https://erm.yale.edu/