One reason we have to think so hard about meaningful mentorship and community-building in higher ed is that stereotypes about brilliance are, for all of us, so firmly rooted. So don't forget, please come to Where We Stand next Monday (11/4) from 5:30-7pm in Mudd Atrium. Good food, great discussion, and kids are welcome–as always.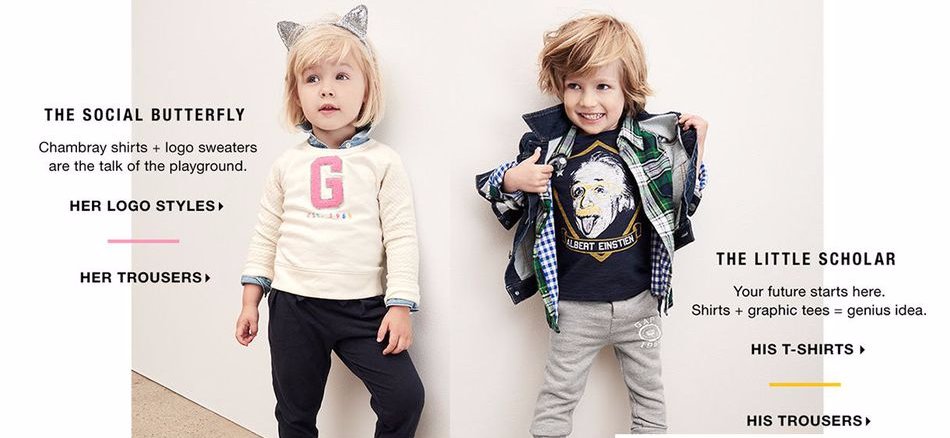 (A real Gap ad from a few years ago. Really.)
But back to the kindergarten kids. Here's how the LA Times describes a new study (the article is below):
The scientists set up a guessing game for 203 5- and 6-year-olds from two public schools in New York City. About 37% of the students were white, 30% were Latinx, 6% were Asian, 5% were black, and 22% described themselves as multiracial.
The children were shown pictures of pairs of adults — either a white man and white woman, or a black man and black woman — in naturalistic scenes, like a home or an office. The scientists asked the students to guess which of the adults was "really, really smart" — a kid-friendly way of describing brilliance. (The scientists also included rounds where they asked which adult was "really, really nice" in order to conceal what the test was really about.)
The researchers found that at age 5, boys and girls each favored their own gender in the brilliance department. But by age 6, both boys and girls associated brilliance with white men more than they did with white women. This held true for children regardless of racial background.
"The Acquisition of Gender Stereotypes about Intellectual Ability: Intersections with Race" First published: 10 October 2019  https://doi.org/10.1111/josi.12352    Authors: